Looking forward to Norbreck 2019!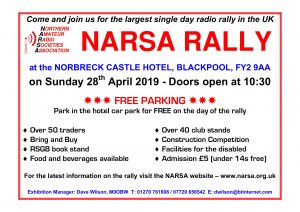 The rally is run by Radio Amateurs for Radio Amateurs –  all the committee are from Clubs affiliated to NARSA and as a group we are committed to the hobby.
The rally presents an opportunity to look at Club stands, chat with the members of other clubs and see  what projects they have on the go.
I still feel the rally holds a wealth of experienced Clubs and amateurs that are only to willing to share the knowledge they hold.
If your Club would benefit from others experience, then see if you can arrange a talk to exchange knowledge and in turn open up new avenues for the progression of your club.
The HF Convention this year had some interesting incite into how clubs are taking a new turn and direction in moving away from talks and PowerPoint presentations every week to more practical hands on sessions,these benefit newcomers and those who may have been licensed for a while but may not have had experience in certain aspects of the hobby!
Spread the word  and encourage others to come along to  Norbreck Rally 2019 !
73 Mike de G4VSS / KW4CN
NARSA Chairman